KOALA HOSPITAL by Suzi Eszterhas selected by Junior Library Guild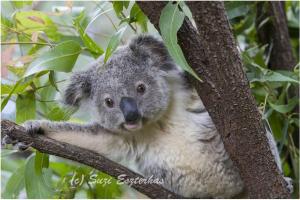 Congratulations to Suzi Eszterhas. The newest title in her ongoing series of children's books, KOALA HOSPTIAL is a Fall 2015 selection by the prestigious Junior Library Guild.

Koala Hospital kicks off the new 4-book Wildlife Rescue series from Owlkids Books. Each book introduces a species of animal in danger somewhere in the world and invites readers inside a rescue center that helps them. Photos by award–winning wildlife photographer Suzi Eszterhas give readers a rare view of the animals and the high level of care they receive.

Koala Hospital features a koala rescue center in Australia. It shows why koalas are in danger, how they come to be in the sanctuary, and the process of healing and rehabilitating koalas for return to the wild. Koala Hospital also focuses on the people who work at the rescue center and how they aid the animals.

Other special features include a map showing the rescue center and the koala's native habitat range, as well as an index, glossary, and author Q&A based on common questions from kids. An author's note at the end introduces readers to small-scale ways that even they can help save koalas.

A portion of the royalties from sales of this book will be donated to the Koala Hospital.

The book is available through Amazon at http://amzn.to/1RiDNX0.