Terrifying Puppy-sized Spider with Venom-filled Fangs Found in the Rainforest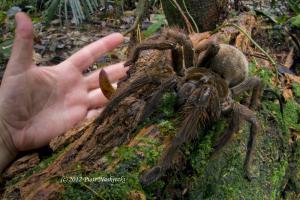 Piotr Naskrecki's photos of the Giant Bird-eating Spider have been getting a lot of attention this week. You may have seen them on MSN.com, the HuffingtonPost.com, ABC News, Fox News or even the Today show. Check out this link to his blog The Smaller Majority.
http://thesmallermajority.com/?s=goliath It's a fascinating insight into the life of the smaller critters of this works, without the crazy sensational headlines.