April 29th, 2014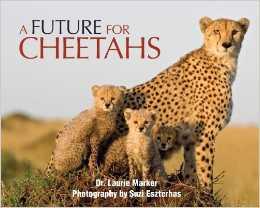 Congratulations to Suzi Eszterhas on the publication of A Future for Cheetahs with the Cheetah Conservation Fund.

A Future for Cheetahs is a simple and elegant large format book featuring Suzi Eszterhas incredible photography that provided insight on the past, present and future of cheetahs in the wild. World renowned cheetah expert Dr. Laurie Marker provides commentary.

Through the eyes of the cheetahs, Suzi brings us face to face with some the the rarest and most beautiful images taken of wild cheetahs. Together the photos and stories weave a tapestry of life on the savanna and the conservation initiatives that provide hope for the survival of the species.

Suzi Eszterhas is a professional wildlife photographer based in California. She specializes in documenting the family lies of endangered species and is well know for her unprecedented work with newborn animals. Her images have been published in magazines and newspapers around the world including: TIME, Smithsonian, BBC Wildlife, Ranger Rick and National Geographic Kids. She is the author of Eye on the Wild, a series of children's book about wildlife. Suzi is in the field for many months of the year, following stories and leading photography tours all over the world.

Prints, cards and phone cases featuring Suzi's images are available from the A Future for Cheetahs gallery.