August 26th, 2020
We used to call these Lightning Bugs. In this image by Hiroya Minkachi, they seem more like twinkle lights or a festival of faeries. For prints Search Keyword and Artist: Firefly Minakuchi.

September 6th, 2016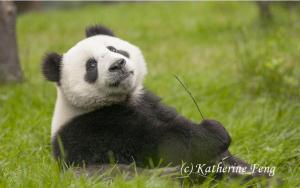 The NY Times reported that the IUCN upgraded the Giant Panda status. The wild population has increased suc that it is no longer listed as Endangered. Now it is listed as 'Vulnerable.' The species is not out of the woods yet. Pandas still face habitat loss from deforestation, and concern over the future effects of global warming on bamboo forests. For now, we're going to accent the positive.
April 8th, 2016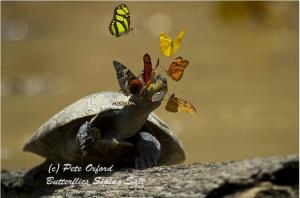 Pete Oxford and Renee Bisch have spend years exploring the Amazon rainforest in their backyard- which happens to be Yasuni National Park. It is also known as the most biologically diverse place on earth. They have published numerous books and magazine articles about the flora, fauna and native people of Yasuni in the hope of saving it from the ravages of oil exploration which threatens to destroy this great wilderness.

This talk is not so much about photographer, it's about a place.

A very, very special place.

It's about a conservation photographer who has tried to help, but who has essentially failed.

Copy the following link into your browser for the video posted by YouTube by WildSpeak. bit.ly/1RJ6Rd4
January 7th, 2016
Imagine hearing a heartbeat like sound in the ocean … but not knowing the source. Whale Trust researchers including Jim Darling spent a decade listening for these sounds and wondering what they were. Finally, on a calm glassy day these 40 Hz pulse sounds were recorded within a few meters of a pair of Humpback Whales off of Maui. Even more convincing, the sounds increased in volume as the whales got closer and became softer as the whales swam away. This led to the publication of a new paper describing these so-called mystery sounds for the first time. If verified, and these sounds are indeed another communication channel for humpback whales beyond the familiar song and social sounds, it could completely change how we view and interpret whale behavior on the breeding grounds.

Click the following link to hear a recording of the sound that has everyone so excited.

http://www.whaletrust.org/wp-content/uploads/Example-2.mp4?_=2

Photographer Flip Nicklin is a co-founder of Whale Trust. A selection of his work is available as prints from AnimalsandEarth.
October 30th, 2015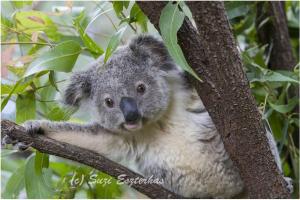 Congratulations to Suzi Eszterhas. The newest title in her ongoing series of children's books, KOALA HOSPTIAL is a Fall 2015 selection by the prestigious Junior Library Guild.

Koala Hospital kicks off the new 4-book Wildlife Rescue series from Owlkids Books. Each book introduces a species of animal in danger somewhere in the world and invites readers inside a rescue center that helps them. Photos by award–winning wildlife photographer Suzi Eszterhas give readers a rare view of the animals and the high level of care they receive.

Koala Hospital features a koala rescue center in Australia. It shows why koalas are in danger, how they come to be in the sanctuary, and the process of healing and rehabilitating koalas for return to the wild. Koala Hospital also focuses on the people who work at the rescue center and how they aid the animals.

Other special features include a map showing the rescue center and the koala's native habitat range, as well as an index, glossary, and author Q&A based on common questions from kids. An author's note at the end introduces readers to small-scale ways that even they can help save koalas.

A portion of the royalties from sales of this book will be donated to the Koala Hospital.

The book is available through Amazon at http://amzn.to/1RiDNX0.