October 12th, 2020
Two year old Eastern Chimpanzee, thinking it over.

October 12th, 2020
October 12, 2020 Minden Pictures launches an updated website. A select set of images carrying the Buy Prints button are available for purchase as prints and other merchandise through the AnimalsandEarth shop.

October 8th, 2020
A swooping abstract flight, as a Wrinkled Hornbill makes his way through the rainforest.

August 26th, 2020
We used to call these Lightning Bugs. In this image by Hiroya Minkachi, they seem more like twinkle lights or a festival of faeries. For prints Search Keyword and Artist: Firefly Minakuchi.

September 6th, 2016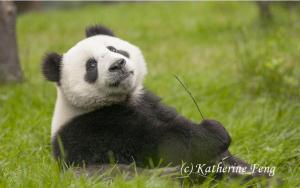 The NY Times reported that the IUCN upgraded the Giant Panda status. The wild population has increased suc that it is no longer listed as Endangered. Now it is listed as 'Vulnerable.' The species is not out of the woods yet. Pandas still face habitat loss from deforestation, and concern over the future effects of global warming on bamboo forests. For now, we're going to accent the positive.