July 30th, 2014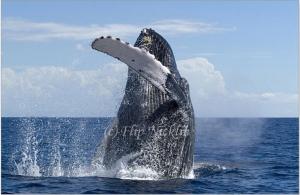 Breaching Humpback Whale off of Maui by the master, Flip Nicklin.

Monterey Bay waters are seeing a strong return of the anchovy this summer which has been a boon to whale and bird watchers. This past spring blue whales were spotted in high numbers.

Today we are still a twitter over humpback sightings in the Monterey Bay this past week. Last evening from one of our local beaches, a staffer counted 42 breaches (many where one could see the entire whale rising out of the bay) over a period of a hour or so. The activity level is akin to what one sees in Hawaii during the winter or Alaska during the summer. Additionally, close to the beach she spotted a single adult dorsal fin as well as fins of an adult and calf together. Amazing.

Add to the mix a large flock of seagulls, a massive flock of Sooty Shearwaters, assorted terns and California Sealions and it was an exciting evening on the beach.